Eye On Latin America
(Translation) Carlos Molina, writing in El País: Some of the region's countries head the global list of those that have done most to enact legislative measures to protect the environment.
Follow Eye On Latin America on Twitter: @eola_blog and on Facebook for regular updates and the best the web has to offer on Latin America!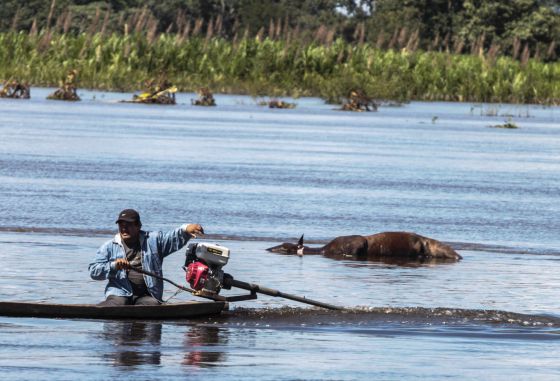 A man struggles through floods in north-western Bolivia. Photo courtesy of Reuters via El País.
In some countries in Latin America, attacking nature is a crime, while in others carbon markets and other forms of trading gases harmful to the atmosphere are being encouraged. They are different measures but ones with the same objective: to confront the inevitable transformations in the climate that are being felt across the region, whether in the form of extreme meteorological phenomena such as severe storms, or in less-easily perceptible changes such as rising sea levels.
On the positive side…
View original post 623 more words